Make Running Easier When You Follow these 12 Tips
12 tips that could make running easier
Would you like to improve running? Are factors like motivation, stamina, and ability holding you back? Did you know jogging or running on a regular basis can reduce your chances of acquiring diseases like heart disease and type 2 diabetes? If you're a nervous beginner, here are some helpful tips that can make running easier for you. Make sure you have these 7 essential items you need before training begins.
Pro tip: when you start adding long runs to your training, follow our long-run recovery timeline!
Start with walking.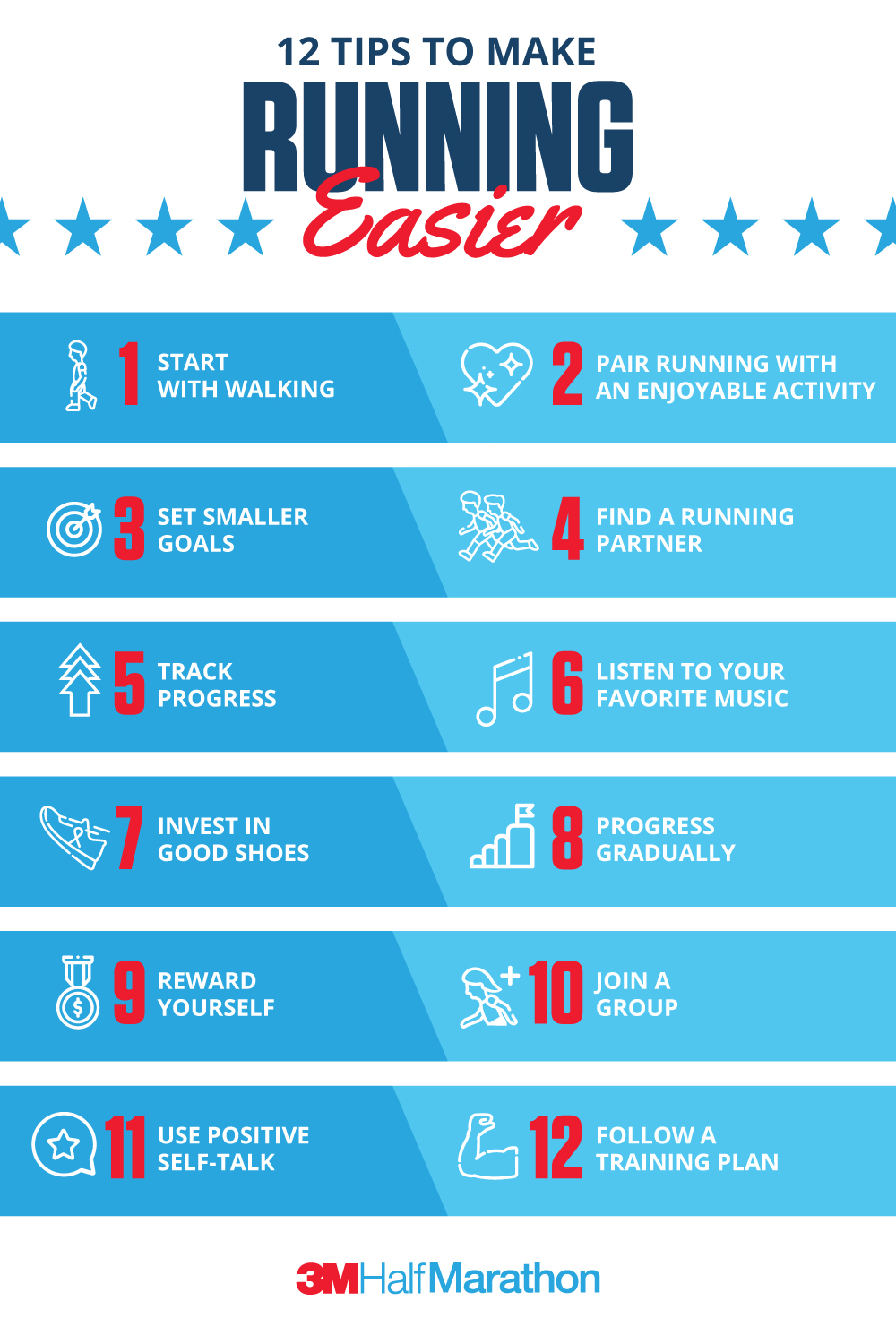 Before you break out into a run, start with a walk. It will warm up your muscles, joints, and bones and serve as the starting point for your run. Make it a habit to walk for the first five minutes before your run. This will help you get accustomed to running.
Pair running with an activity you enjoy.
If you have a hard time leaving the house for a run, pair running with an activity you like doing such as listening to a podcast or your favorite playlist. While engaging in your activity, start your run. Keep yourself occupied with the activity throughout your run. This will help you enjoy your new-found workout.
Set small distance goals.
If the run time feels daunting, set small distance goals. For example, you can do a 1K run or a jog around the park to start. Set small challenges that are achievable so that you will feel determined to continue.
Enlist a running partner.
Even though some people prefer to run alone, you can opt for a running buddy. It will help if this person enjoys running. Running with a friend can make this exercise a pleasurable experience.
Keep track of your progress.
Keep a record of how much and how long you run. At periodic intervals, go over your record. You will be able to see a steady improvement in your time and distance. This will inspire you more to run.
Listen to your favorite tunes.
Music is a great exercise accompaniment. Make a compilation of energetic tunes or listen to ours. On your next run, put on your ear pods and listen to this list. The music will stimulate you to adjust your speed and pace. You're also more likely to enjoy the run.
Invest in good shoes.
Your footwear matters when you run. Avoid the temptation of buying cheap shoes. They can seriously damage your feet, joints, and back. Spend the extra money on a pair of good runners. Pro tip: follow our advice to pick out the right running shoes.
Progress gradually.
Avoid progressing in your training too quickly. This can rapidly demotivate you and even injure your body. Follow your training plan and take advantage of your rest days. This tip is applicable for a beginner, novice, and a pro.
Reward yourself.
Hard work deserves to be rewarded. Each time you complete a goal, treat yourself.
Join a runner's group/forum.
What better way to encourage yourself than to talk to other runners. They can provide valuable tips and suggestions to improve running.
Positive self-talk.
Your mind is your biggest obstacle when it comes to running. In fact, you'll find it easier to come up with reasons not to run versus pushing yourself to get out the door. This is where you have to repeat positive affirmations like:
"I've got this!"

"I can do this."

"One run at a time."

"I'm one step closer."
Follow a training plan.
This is especially helpful if you're a beginner. There are 30-day beginner programs that will help you build your endurance and confidence. Many of them gradually progress from walking to running.
Running isn't about losing weight or getting fit. It's a lifestyle. The first two weeks may feel like an uphill battle, but if you apply some of these tips, you can make running easier.
https://downhilltodowntown.com/wp-content/uploads/2020/10/854124_3M-Half-Marathon-2020-12-Tips-to-Make-Running-Easier_495x400_101220.jpg
400
495
3M Half
https://downhilltodowntown.com/wp-content/uploads/2023/08/Horiz-3M-Half-Marathon-Web-Horizontal-Logo--300x74.png
3M Half
2020-10-13 09:26:03
2020-10-13 09:26:03
Make Running Easier When You Follow these 12 Tips