Learn How You Can Start Running Today
Take the first steps toward a healthier lifestyle when you start running today
Did you just discover running? Welcome! Did you start running again after a long layoff? Glad to have you back. Is 2021 the year you start running? Great news! The advice below is geared towards first-time runners, but can be applied to those returning from a break or injury. Wherever you are in your running journey, you're about to embark on something amazing. It will include countless miles, early mornings, new friends, and plenty of finish lines! Take our advice, apply it to your journey, and start running today! Remember: every runner starts at square one.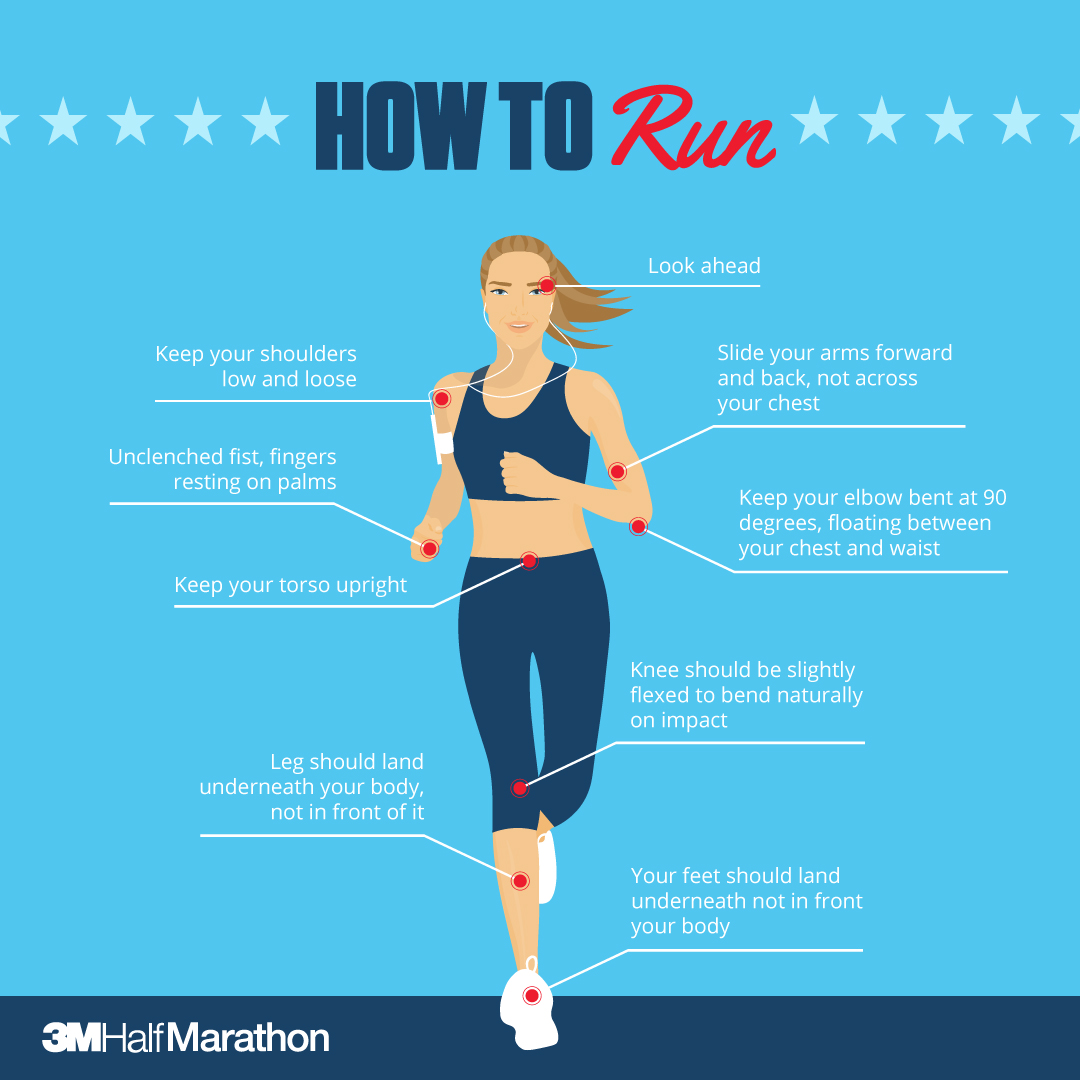 Pro tip: don't train alone! Learn how you can convince your friend to train for a half marathon with you.
Practice good form
It's important to practice good form when you start running. Our advice and the downloadable infographic will get you started! Don't start too fast. You want to remain in control and keep your body relaxed. Focus on your breathing and staying loose. Focus on what's ahead of you, but pay attention to all of your surroundings. Also, make sure:
your legs and feet land underneath your body, not in front
your arms slide forward and back, not side to side
your elbows are at a 90-degree angle
your fists aren't clenched
your shoulders are low and loose
Set a goal and find a training plan
One of the first things you want to do is set a goal. That could be a particular distance, a specific amount of time, or a certain event. If you're just starting out, an ideal goal distance would be a 5K or 10K. Training for one of these distances gives you a taste of what running is all about. It'll teach the basics that you can then apply to longer distances, like a half marathon. Whatever goal you set, you have to commit to it. Make sure you set smaller goals that lead to your large goal to keep you motivated and on track.
Make running easier
Running is simple, you put one foot in front of the other. But there are so many ways for you to make running easier. Take proper care of your body, especially when you're just beginning. Getting more sleep, taking time off, and hydrating properly are just a few of these 12 tips that'll make running easier!
Don't skip the warm-up
An effective warm-up is crucial, especially if you start running today. You're asking something new from your body and you want to make sure your muscles are awake. A proper warm-up can help prevent injury and keep cramps from occurring. Not sure where to start? Follow this 10-minute warm-up routine.
Stay motivated
Sometimes the motivation just isn't there. The chances of skipping a run or missing a workout are higher with first-time runners. But you're not alone! All runners face this dilemma. One of the best ways to keep your motivation level high is to find an accountability partner. This person will meet you early in the morning and make sure y'all complete the run. Yes, you guessed it, you'll hold them accountable too! Here are 5 excuse busters that can help keep you on track.
Don't miss your morning run
Getting up for your early morning run can be difficult, especially for first-time runners. Completing an early morning run really sets up the rest of your day nicely! But the battle with your alarm clock is real. This is the case for veteran runners too! Use these 6 tips and they'll help you get out the door for your morning run.
Long-run recovery timeline
You're logging miles. Crushing your early morning run. Your weekend long runs are getting longer. What's left? Learn how to properly recover from your long run with this recovery timeline. This long-run recovery timeline will help expedite the recovery process and help get you ready for whatever's next!
This useful advice will help put first-time runners on the road to success. But if you're returning from a long break or recovering from an injury, this information is just as beneficial. Start running today and get ready for an amazing running journey!
https://downhilltodowntown.com/wp-content/uploads/2021/01/935016_3M2021HowtoStartRunningFeature_010421.jpg
400
495
3M Half
https://downhilltodowntown.com/wp-content/uploads/2023/08/Horiz-3M-Half-Marathon-Web-Horizontal-Logo--300x74.png
3M Half
2021-01-05 10:27:28
2021-01-05 10:27:28
Learn How You Can Start Running Today