These 7 valuable tips will help you run your best and get the most out of training
Run your best when you follow these 7 tips! There are some things that are out of our control, like the weather. But when you execute the things you can control, you truly run your best. These tips are as easy as relaxing while you run and as technical as checking your cadence. Keep these tips in mind when you're training during the summer months. Need a reminder? Click the infographic below to download for yourself. Take your training to the next level when you take care of yourself with this vital advice!
Relax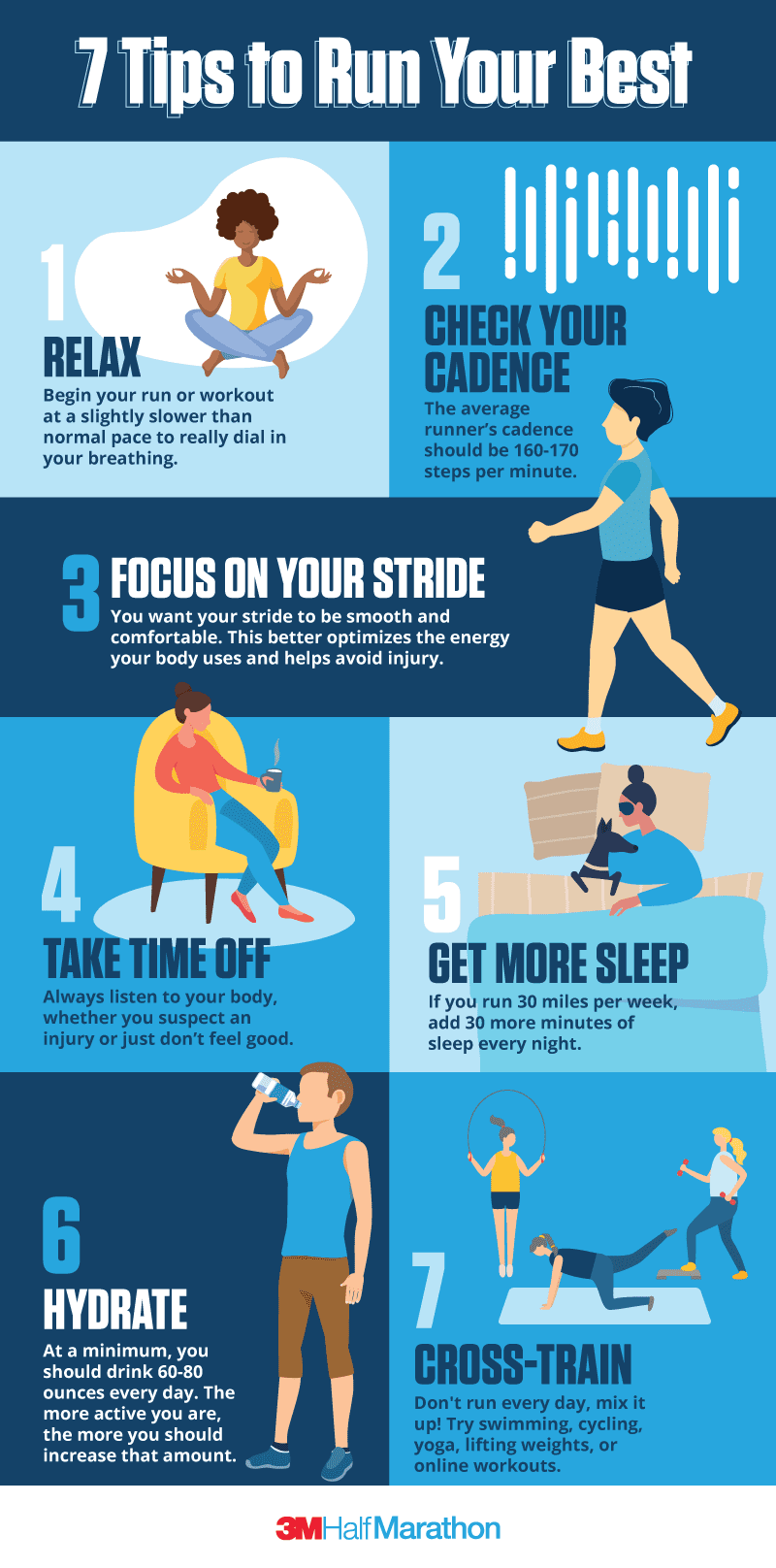 Sounds simple, but we can unknowingly put a strain on our body in an effort to produce mileage or a certain pace. Really focus on relaxing your body. Unclench your fists and loosen your shoulders and jaw. You can even begin your run or workout at a slightly slower than normal pace to really dial in your breathing. Slowly increasing your heart rate at the beginning will help with relaxation.
Check your cadence
The average runner's cadence should be 160-170 steps per minute. You don't have to count this in your head! Every runner is different, especially if you're just starting out or have been running all your life. Under Armour makes knowing your cadence seamless. Their Bluetooth connected shoes, like Under Armour's HOVR Velociti 2
, send the information from your run directly to their MapMyRun app. The app even provides personalized coaching tips! Tracking your cadence, mileage, pace, and other running-related data will help you see improvement.
Focus on your stride
This coincides with the first tip to relax. Your stride improves when you relax. Don't overstride or run on your tippy-toes. You want your stride to be smooth and comfortable. This better optimizes the energy your body uses and helps avoid injury.
Take time off
Listen to your body, whether you suspect an injury or just don't feel good. The last thing you want is to have something minor become a major issue. If you have to take more than a day or two off, visit a specialist at the Ascension Seton Sports Performance and get checked out. If you think something is wrong get it diagnosed so you can build a plan to get back to running. 
Get more sleep
Feeling a little sluggish since you've increased your mileage? Add one extra minute of sleep per night for every mile you run that week. If you run 30 miles per week, add 30 minutes of sleep. Your body repairs itself when you sleep. Make sure you give your body enough time to recover when you begin asking more of it.
Hydrate
This might seem like a no-brainer, but it's extremely vital. At a minimum, you should drink 60-80 ounces every day. The more active you are, the more you should increase that amount. Make sure you have a good balance of water and an electrolyte-infused fluid, like nuun hydration.
Cross-train
Don't run every day, mix it up. Cross-training is important to prevent overuse injuries. Try swimming, cycling, yoga, lifting weights, or online workouts. You'll work different muscles and build strength. When lifting weights, focus on a lighter weight with more reps. Here are 8 reasons to include cross-training with Camp Gladiator!
You will ask more of your body as you increase your mileage. It's important that you take care of your body. Incorporate these tips so that you can run your best. Do you have a tip that helps you run your best? Let us know on Facebook or Twitter.
https://downhilltodowntown.com/wp-content/uploads/2020/06/744395_3M-Half-Marathon-2020-Attract-readers-to-the-blog_495x400_2_061220.jpg
400
495
3M Half
https://downhilltodowntown.com/wp-content/uploads/2023/08/Horiz-3M-Half-Marathon-Web-Horizontal-Logo--300x74.png
3M Half
2020-06-23 05:59:31
2020-06-22 10:00:08
7 Valuable Tips You Need to Know to Run Your Best