We want you to join our volunteer team!
Are you a runner who's looking for a way to give back? Or maybe you're looking for a way to get involved in your localcommunity. Either way, we have the perfect solution for you: volunteering at the annual 3M Half Marathon on January 22, 2023!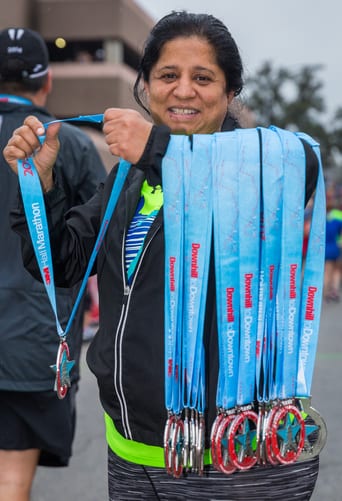 There are several positions that are available to fit your schedule. You can provide a reassuring smile to runners at the expo on Friday and Saturday. Or you could assist on the course or at the finish line festival on Sunday. Some volunteers do both! There are even runners who volunteer at the expo and run on Sunday. So many options!
Make it fun! Volunteer with your family and friends, as well as with any other groups or organizations. Do you need to complete service hours? We got you! As a volunteer, you are assisting the staff in the production of a fun and safe event. You are also helping the participants reach their goals and have a great experience!
Don't worry if you haven't volunteered before. We will make sure that you know everything you need to know to have fun and succeed as a volunteer. We will also provide snacks during your shift. And to top it off, everyone on the volunteer team will receive an official Under Armour 29th Anniversary volunteer shirt. 
Why Volunteer?
Volunteering is a great way to give back to your community and make new friends. As a volunteer, you will be assisting the staff in making sure that everyone has a safe and fun experience. You will also be helping runners reach their goals by providing encouragement and support along the way.
What Are the Requirements?
We ask that all volunteers be at least 16 years of age and able to commit to the full volunteer shift, the range from a few hours to all race day depending on the position. Under 16 or bringing someone with you, don't worry—we have plenty of other opportunities for you to get involved just send us an email at volunteer@3mhalf.com and we will make sure that we have you in the right position.
How Do I Sign Up?
Signing up is easy! Just head over to our website and fill out the online form. Don't wait any longer, sign up now!
Volunteering is a great way to give back, meet new people, and have some fun! If you're interested in signing up, just head over to our website and fill out the online form. Have questions about a volunteer position you are interested in? email us at volunteer@3mhalf.com and we are happy to answer any questions and assist you with sign up.
Sign Up to Get Volunteer Newsletter