3M Half Marathon Taps EIGHT Beer as Official Beer Sponsor
Finish line festival to feature new Austin based independent beer brand
High Five Events, one of the largest privately owned event production companies in the United States, pens sponsorship deal with EIGHT Beer making it the Official Beer of the 3M Half Marathon.  This inaugural agreement means that EIGHT, an Austin-based company, will feature its low-calorie, low-carb light lager at the finish line festival's beer garden and VIP for finishers aged 21 and up.  The 29th annual 3M Half Marathon takes place in Austin, Texas on January 22, 2023.
"The EIGHT team is thrilled to join runners in the streets of Austin celebrating one of the most fun and fastest half marathons in the country," said Sophia D'Angelo, Director of Experiential Marketing. "Together with High Five Events we look forward to being a part of an incredible runner experience at the 3M Half Marathon."
EIGHT, founded by NFL legend and lifelong fitness enthusiast Troy Aikman is a light lager brewed with organic grains and no added adjuncts, fillers, or preservatives, 90 calories and 2.6g carbs per 12oz serving.  EIGHT will be available to finishers and spectators in the EIGHT Beer Garden at the finish line festival for the 3M Half Marathon. The EIGHT Beer Garden will provide runners and their friends and family a place to gather, relax and enjoy a cold EIGHT post-race.  EIGHT yard games and EIGHT branded swag will also be available in the post-race festivities.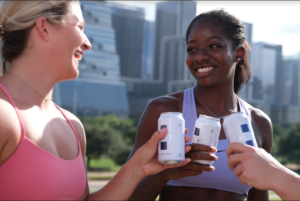 "As Austin-based entrepreneurs whose very purpose is to celebrate the chase of greatness, the team at  EIGHT is the perfect partner for us at the 3M half marathon," said Jack Murray, co-owner of High Five Events. "We look forward to many PR cheers in the EIGHT Beer Garden with all the runners on race day."
The 3M Half Marathon boasts one of the fastest 13.1-mile courses in the country. Runners enjoy a point-to-point course with mostly downhill running that showcases some of Austin's finest locations. Starting in north Austin and finishing near the Texas State Capitol, runners will appreciate a 306' net elevation drop. Participants can register on the website.
About EIGHT: NO SHORTCUTS. NO EXCUSES. EIGHT Elite Light Lager is a beer brewed for those who never settle. Founded by NFL legend and lifelong fitness enthusiast Troy Aikman, EIGHT is a clean, refreshing lager brewed with organic grains and no added adjuncts, fillers, or preservatives. Because we do one thing is how we do everything-whatever you're after; cheers to the chase. Proudly based in Austin, TX, with a mission beyond the bar, EIGHT is committed to giving back 1% of all revenue to Texas-based causes that work tirelessly to make healthy living accessible to All.  Follow EIGHT @drinkEIGHTbeer on Instagram
https://downhilltodowntown.com/wp-content/uploads/2023/01/Eight-Beer.png
400
495
Mkt.Assist
/wp-content/uploads/2017/10/3M-Half-website-header-logo340x156.png
Mkt.Assist
2023-01-18 13:43:17
2023-01-18 13:55:13
3M Half Marathon Taps EIGHT Beer as Official Beer Sponsor