Our Favorite Storage Hacks: How to Organize Your Running Shoes
Follow us on Pinterest and discover more ways to organize your running shoes
Sometimes our shoe collection gets out of control. This is especially true when you have specific shoes for specific activities, like wearing your running shoes only when you run. There have been a few times where we couldn't find the pair we needed. Add in your spouse, maybe kids, or roommates and the shoe pile can grow on its own! We started thinking about ways to organize our shoes and want to share what we've discovered with you. We built a Pinterest board with many clever, sleek, and good-looking ideas! Read about four of our favorites below. Follow 3M Half Marathon on Pinterest and decide for yourself when you visit our "Organize Your Running Shoes" board.
Under the bed

Unless you already have drawers under your bed, chances are you have unused space. Put this location to work! We pinned several ideas for different ways to organize your running shoes under your bed. Keep your drawer on wheels so it's easier to pull out and push back in. This is a great option if your shoes are strewn about all over the bedroom.
On the wall

Use the vertical space of your walls in your garage, entrance area, or laundry room. Just like the drawer under your bed option, this is a great way to save space. It gets shoes off the ground and prevents them from becoming a tripping hazard. Building a rack or two in your garage is your best bet if your running shoes need to dry off and air out.
In your closet

Do you have a hill of shoes on your closet floor? One of our Pins provides 20 different shoe storage ideas for your closet. Organize your running shoes and get them off the ground. The hang-down design ensures that you can always find the left and right shoes when you need them. This tactic is ideal if you live in an apartment.
DIY rack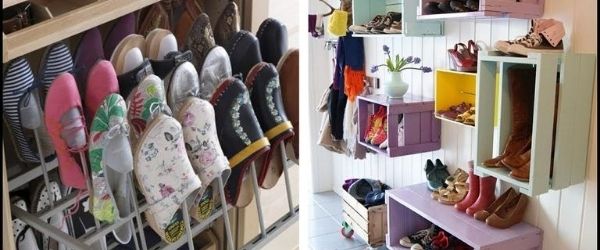 This might be our favorite because there are so many different ways that the rack can be customized! Let your imagination run wild, unless you buy a rack that comes with instructions. You can build it to your desired height, move it to where you want, and customize its additional functionality. Use the top spot for plants, put key hooks on the side, or add a corkboard so you can pin photos. So many ideas! 
There are so many different ways to organize your running shoes. Our "Organize Your Running Shoes" Pinterest board has something for everyone. We know you'll find something that fits your just as well as your running shoes! Is there a specific way you currently organize your running shoes? Let us know in the 3M Half Marathon Facebook Group or on Twitter.
https://downhilltodowntown.com/wp-content/uploads/2020/09/495x400_1_081720.jpg
400
495
3M Half
https://downhilltodowntown.com/wp-content/uploads/2023/08/Horiz-3M-Half-Marathon-Web-Horizontal-Logo--300x74.png
3M Half
2020-09-01 05:10:33
2020-09-01 10:01:22
Our Favorite Storage Hacks: How to Organize Your Running Shoes