3M Half Marathon Gear Bag & Bib Tips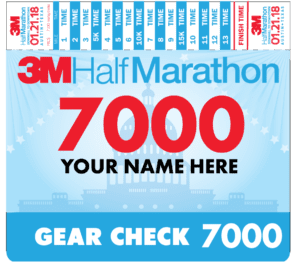 Bibs
Bibs are one of the most important items to remember on race day. It includes your timing chip, pace band, and gear check tag.
The timing chip on the back cannot be bent or folded.
To make sure you get an accurate time, make sure your bib is not covered by any clothing or race belt. Make sure you receive all of your race photos by clearly wearing your bib on the front of your shirt.
The pace band can be taken off and worn on race day to help you finish by your goal time. If you are running with a pace group, stop by the pacer booth at the expo to talk with them about tips and tricks.
The gear check tag can be taken off and given to a friend or family member if they are going to drop off or pick up your bag for you. Runners do not need the gear check tag, they can just show their bibs.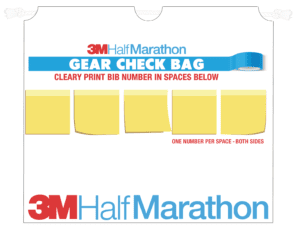 Gear Bags
You will receive your Gear bag at packet pick up, filled with awesome 3M Swag (Check Out Your Swag Here)!
You can use the bag to hold sweaters, shoes, personal items that you have with you at the start that you do not want to take on course with you.
Do not put valuables in the gear bags, such as car keys, phones, or wallets.
You will drop your bag at the Heavenly Moving Truck that has the corresponding bib number sign near the start line. We will transport the bags to the finish line for you to pick up when you are finished. Remember if a friend or family member is picking up your bag, they must have your gear check ticket.
You can pick up your bag at the Heavenly Moving Gear Bag Trucks, located south of the finish line on 12th and San Jacinto.
https://downhilltodowntown.com/wp-content/uploads/2023/08/Horiz-3M-Half-Marathon-Web-Horizontal-Logo--300x74.png
0
0
3M Half
https://downhilltodowntown.com/wp-content/uploads/2023/08/Horiz-3M-Half-Marathon-Web-Horizontal-Logo--300x74.png
3M Half
2018-01-17 11:50:58
2018-01-17 11:52:27
Bib & Gear Bag Tips